Ok, as promised ages ago, but I'm a slacker.
I present to you all, Dublin.
As opposed to actually sleeping, we decided it would be far more entertaining to take pictures of ourselves Fake Sleeping.
I was obviously the best.
Tristan bought a creepy hat. I hate that hat. It makes him look creepy.. Or like a pedophile. Not words to be used lightly, but the hat is just not right.
There were a lot of buskers in Dublin. This man was a coin operated statue. He had a statue dog and played music! Under his hat hid a sunflower, and he had a bird on his finger, which he pecked you with when you gave him money! I gave him an awful lot of money.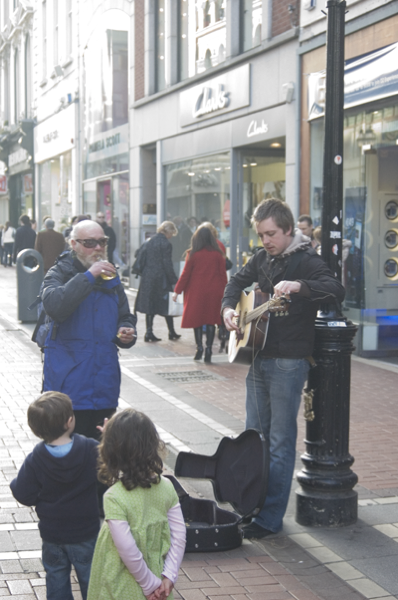 The guy playing guitar was actually pretty good. The drunk man singing with him made the show though. If Dublin taught me anything, it's that it's completely appropriate to drink in public on cold mornings. It's funny how the kids seem oblivious to it.
This is James, we met him in the George. He came over and started talking to us, while Robbie squealed that he wasn't gay. Robbie is gay. Very gay. It's important to note here, that this is in fact, James posing, and trying to look like he's not posing. This was the only photo he let me take.
Robbie! My partner is feather boa's and diamonds crime. It's a long story.
Shirley Temple Bar of Irish Lottery fame. The drag queens mimed to songs, and this annoyed Tristan. I loved it though!
Dolly Grip, I want a furry coat, especially a pink one!
And the rhythm of life is a powerful thing!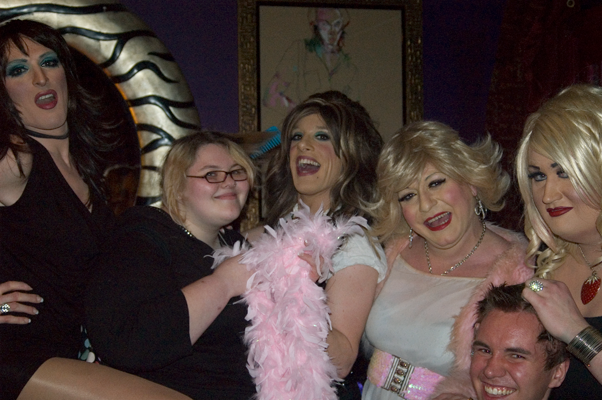 [Insert generic 'which one's the drag queen' joke here]
From Left to Right - Veda, MEEEEEE, Shirley Temple Bar, Dolly Grip, Tristan, Victoria Secret.
I was a mess when I met them, I was all excited, like a 5 year old meeting Dora the Explorer.